QH Straight
EUROPACITY MEETS THE JUNGLE
Big city outside, green inside
HIGH-QUALITY LIGHT- TO MEDIUM-GREY LINO FLOORING
LOFT STYLE THROUGH EXPOSED CONCRETE CEILINGS
WALLS PLASTERED AND PAINTED IN THE LIVING SPACES
LARGELY STRETCHED FLOOR PLANS
MANY LIVING SPACES FACING A QUIET INNER COURTYARD
LARGE-FORMAT WINDOWS, PARTLY EXTENDED AS BENCHES
FITTED KITCHEN WITH WASHING MACHINE, FRIDGE-FREEZER, STOVE
HIGH-QUALITY SANITARY FACILITIES
TONAL WHITE BATHROOM TILES
AND JOINTS
UNDERFLOOR HEATING FOR
COSY HEAT
INTEGRATED SMART-HOME FEATURES
RETHINKING THE CITY

QH Straight creates the kind of quality living space that has become a rarity in a city like Berlin. The building is cube-shaped with a large, square courtyard at its centre. It blends into the neighbourhood, while also standing out from the crowd with its façade design.
The ground floor features retail space on the Heidestrasse side, while the traffic-calmed area within the quarter is home to shops and studios. This all works together to cement the urban mix. At the heart of the residential building lies the central, lushly landscaped inner courtyard as a common focus point for residents that provides rich contrast to the surrounding urban space.
131 new 2- to 4-room apartments are taking shape right here, in the heart of the city. The majority are two- or three-room apartments. The apartments vary from around 62 to 153 square metres in size, all individually and intelligently designed.
There are beautiful corner apartments, and floor-through apartments where the kitchen-dining-living area extends from the street side to the courtyard. Many living areas face onto the calm courtyard area. Everyone can find their ideal new residence.
SPACE TO ENJOY LIFE
These are the things that create a sense of comfort: light, space, and good style. Fluid floor plans, ceilings made from stylish exposed concrete, high-quality linoleum flooring and cosy window seats create a harmonious home atmosphere, which is rounded off by smooth walls, bathrooms adorned with elegant white tiles that gleam with timeless beauty, and details that follow a carefully selected home fittings concept.
All apartments feature a modern built-in kitchen unit with a dishwasher, combined fridge and freezer, stove, and sink. Each apartment also has its own cellar space.
And then there's the view into the vibrant green courtyard, making life in QH Straight a real urban adventure. It is a calm oasis that allows people to quickly forget that they are still in the middle of the capital. A new kind of natural urban jungle that offers a surprising contrast to the surrounding metropolis. And despite this – the moment they step outside, they'll find all the day-to-day essentials right on their doorstep.
Not just any home: it's MY home! If this is your way of thinking, you'll find exactly what you need at QH Straight. Tailored to the needs of people who love open spaces just like they love their privacy. Built for people who value tangible quality, living in urban environments yet wishing to feel close to nature. What do you expect from life at QH Straight? Granted, you can expect a lot and won't be disappointed!
Find an apartment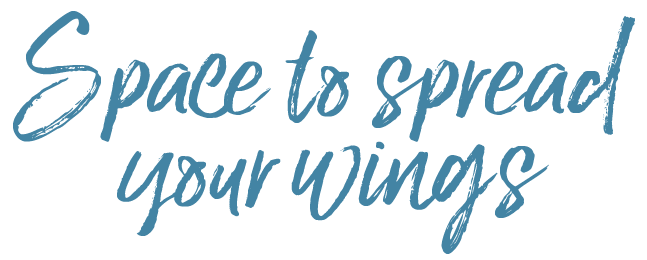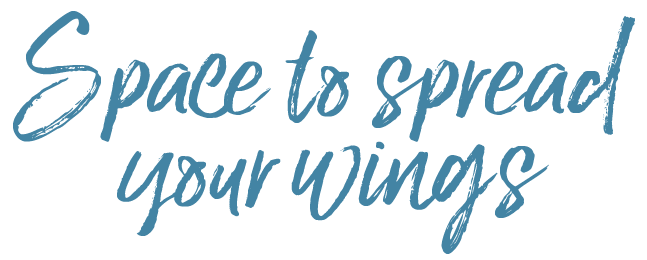 Example Layouts
Apartment type 3a
(2 rooms)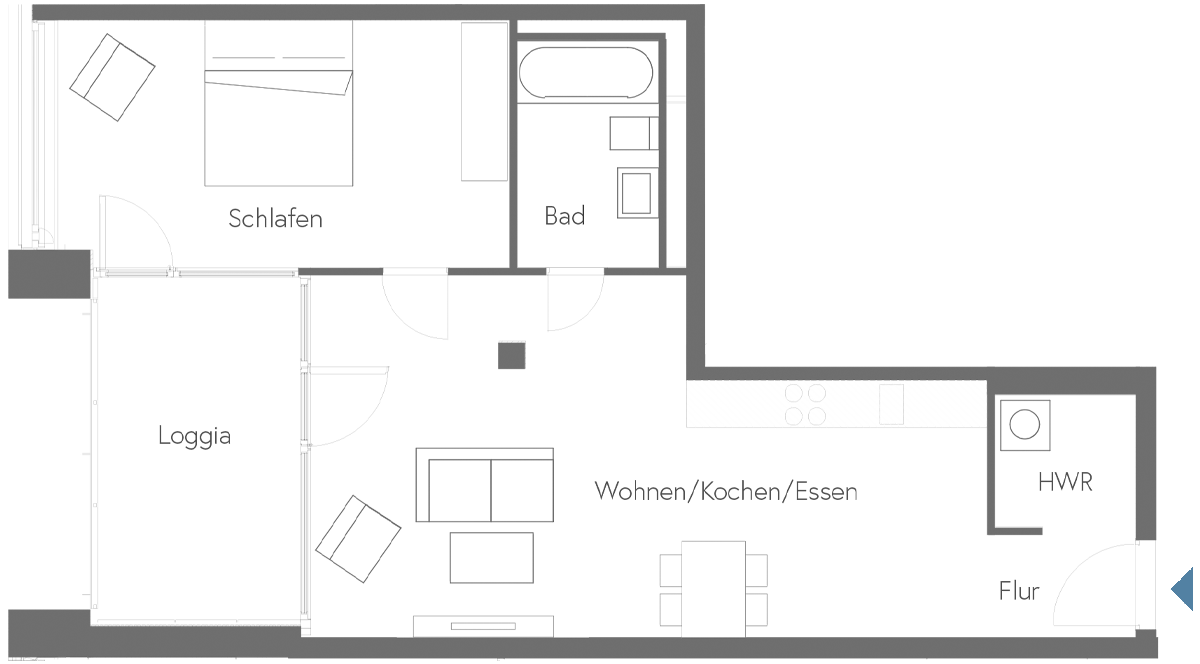 Apartment no. ST.8, ST.30, ST.52, ST.74, ST.96
69.03 m² | 2 rooms | 1. - 5. OG
Living / Cooking / Dining
34.05 m²
Bedroom
17.98 m²
Bathroom
5.67 m²
Hallway
2.45 m²
Laundry room
3.10 m²
Net living area
63.25 m²
Loggia (real area: 11.55 m²)
5.78 m²
Balcony (real area: 6.98 m²)
69.03 m²
Total living area
87.75 m²
Apartment type 9a
(2 rooms)

Apartment no. ST.17, ST.19, ST.21, ST.39, ST.41, ST.43, ST.61, ST.63, ST.65, ST.83, ST.85, ST.87, ST.105, ST.107, ST.109, ST.126, ST.128, ST.130
62.83 m² | 2 rooms | 1. - 6. OG
Livingroom
13.99 m²
Cooking / Dining
7.24 m²
Eat
15.55 m²
Bedroom
14.18 m²
Bathroom
4.62 m²
Laundry room
2.78 m²
Net living area
58.36 m²
Loggia (real area: 8.94 m²)
4.47 m²
Total living area
62.83 m²
Apartment type 4b
(3 rooms)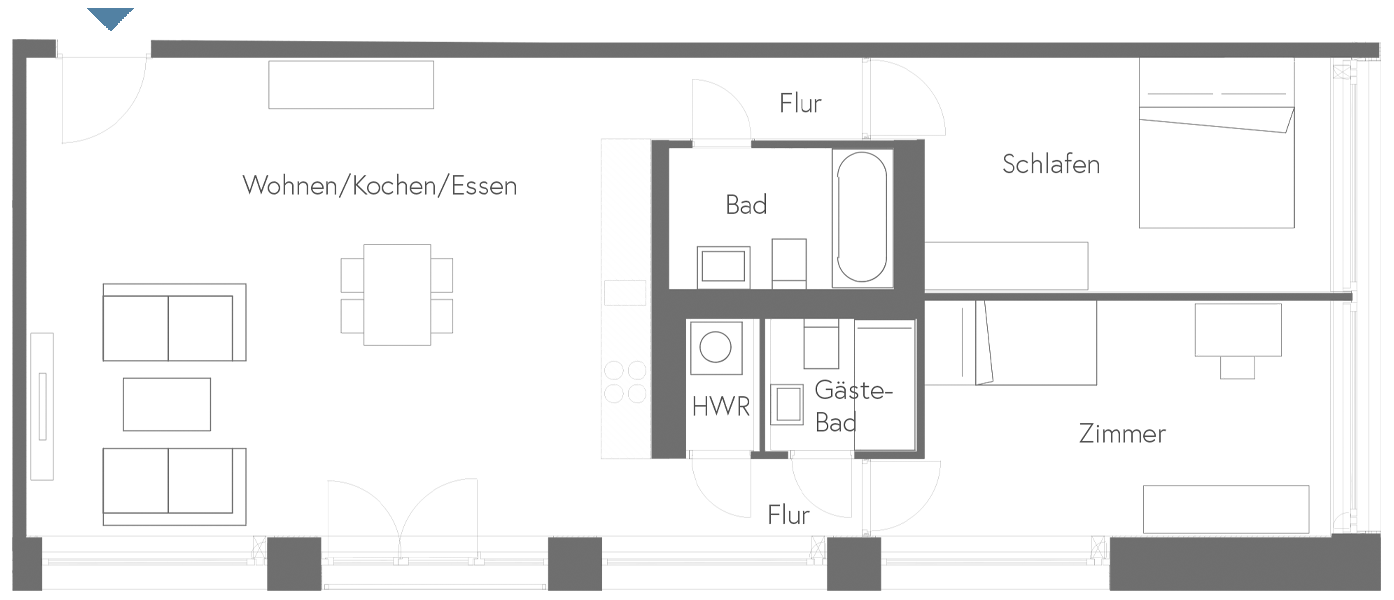 Apartment no. ST.14, ST.36, ST.58, ST.80, ST.102, ST.123
87.49 m² | 3 rooms | 1. - 6. OG
Living / Cooking / Dining
44.21 m²
Bedroom
15.05 m²
Room
14.91 m²
Bathroom
4.55 m²
Guest-Bathroom
2.64 m²
Hallway
4.81 m²
Laundry room
1.32 m²
Total living area
87.49 m²
Apartment type 6
(4 rooms)
Apartment no. ST.11, ST.33, ST.55, ST.77, ST.99, ST.120
112.25 m² | 4 rooms | 1. - 6. OG
Livingroom
17.47 m²
Kitchen
8.28 m²
Eat
17.17 m²
Bedroom
13.22 m²
Room 1
13.64 m²
Room 2
13.08 m²
Room 3
10.00 m²
Bathroom
4.63 m²
Guest-Bathroom
3.12 m²
Hallway
7.42 m²
Laundry room
1.75 m²
Net living area
109.78 m²
Loggia (real area: 4.94 m²)
2.47 m²
Total living area
112.25 m²